Don't Pay in May
MyFirstGym is waiving May's weekly membership fees for anyone that signs up for a six-month membership! So hurry – the sooner you join the more you save! T+Cs apply – excludes North Ryde
A Victorian First!
Introducing MyFirstGym Thomastown – the very first club in Victoria! To our current members, if you have friends of family in Victoria, and you've been telling them how much the kids love MFG – share the good news!
Join the Springfield Community
Springfield has opened! Visit the new gym today at Springfield Fair Shopping Centre!
inspiring movement.
MyFirstGym is a destination for kids to fall in love with movement and fitness, a place that supports skill development and inspires kids to move their bodies through their most important developmental years.
Did you know that 8 out of 10 Aussie kids aren't getting the recommended amount of physical activity each day? At a time when they are most formable, children are learning that fun comes in the form of a computer or mobile device, and that physical activity is something that they only participate in because they have to, rather than something they enjoy and look forward to.
making fitness fun
Catering for kids aged 7 months to 15 years, we offer curriculum-based and speciality classes like Yoga, Athletics, Gymnastics and Ninja Warrior; all of which are designed to be used in conjunction with the innovative MyMovementBuddy wearable technology, built especially for our kids.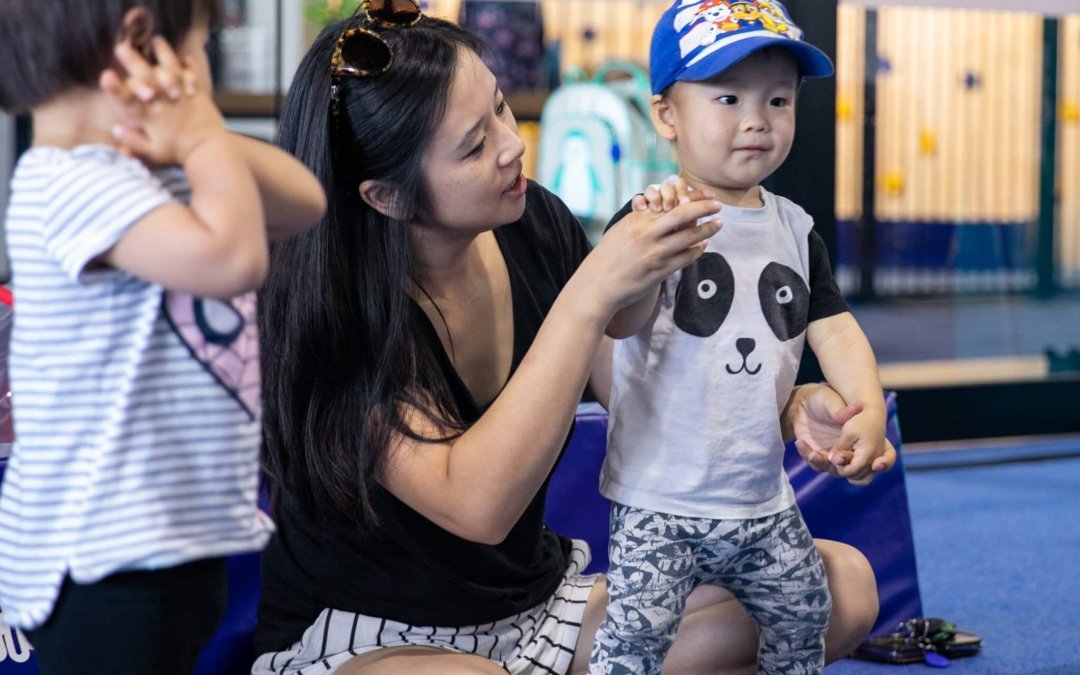 Words by Erica Newton, MyFirstGym Co-Founder Just before I became a mother, there were certain things I knew I absolutely WOULD NOT do once my cherished mini-me entered the world. I'd watched other parents with their offspring and had silently noted what I...
read more
Frenchs Forest
"We were so excited about MFGs opening and it did not disappoint. We have two boys, 6 and 4, and they have plenty of class choices. Worth noting is my 4 yo was such a shy introvert, mainly towards other kids rather than adults, and jumping joeys with Coach Nicole has really bought him out of his shell. My boys love their weekly visits and I look forward to more clubs opening all over Sydney!!"
Priscilla Sedgewick
Salisbury
"Love this place to death. The kids have gone from screen time to no stop play time. The best thing we have done for our 3 devils. The staff are awesome and friendly. Would recommend my first gym to anyone and everyone."
Troy Mulholland
Enoggera
"We held our son's 6th birthday party at MFG Enoggera. What stood out for us was the two coaches Cass and Mia. They were fantastic with the children at the party, interacted wonderfully and provided plenty of fun. They also helped us set up and then cleaned up afterwards.
Many parents and children commented that this was the best birthday party that they had been to and we have to agree."
Stuart Smith
Ashmore
"My 2 year old absolutely loves this place! The staff are awesome, particularly Miss Kylie! Her enthusiasm for her job really shows and you can see the kids just love her! The equipment is awesome and my daughter always leaves exhausted and ready for her nap! Perfect!!"
Natalie Perry
Redbank Plains
"We take our daughter here and feel It is extremely beneficial for her mental and physical health. She has developed significantly since starting My First Gym. The coaches are very talented, friendly and adapt an encouraging professional approach."
Kelly Adlington
North Lakes
"Highly recommend. Friendly staff who love what they do. Amazing with the kids, encouraging but not pressured. Huge variety of classes and different activities every week. Value for money is a given - we were paying the same $ for 1 session a week at another activity centre. Kids are having fun, being active and sleeping well at night. Win win for the whole family. Great to see my kids growing in confidence and giving new things a go. We are addicted!!"
Sheridan
Robina
"My little boy is high-functioning Asperger. When he started it was hard (for the staff and for me) and I didn't think he'd last. He loved it so much that he tried and tried to behave (and listen) and he's now doing really well. It's great behaviour therapy for him because it's both physical and mental education. The staff are lovely, I love Paige, she really knows how to handle my little boy, they're all amazing and loving and caring. I can get my gym workout done at snap across the way while my little one does his super fun workout. He wants to be there all the time!"
Jeannie Savage
Hawthorne
"Both of my children attend here and love it. My son tried AFL and hated it, but he enjoys having the opportunity to participate in a variety of group classes at MFG. The core class coaches are fantastic and when they noticed my son's developing interest in gymnastics elements, they directed me to an age-appropriate class for him to foster his love for gymnastics. Management and staff are very friendly and approachable."
Becci Thorsen