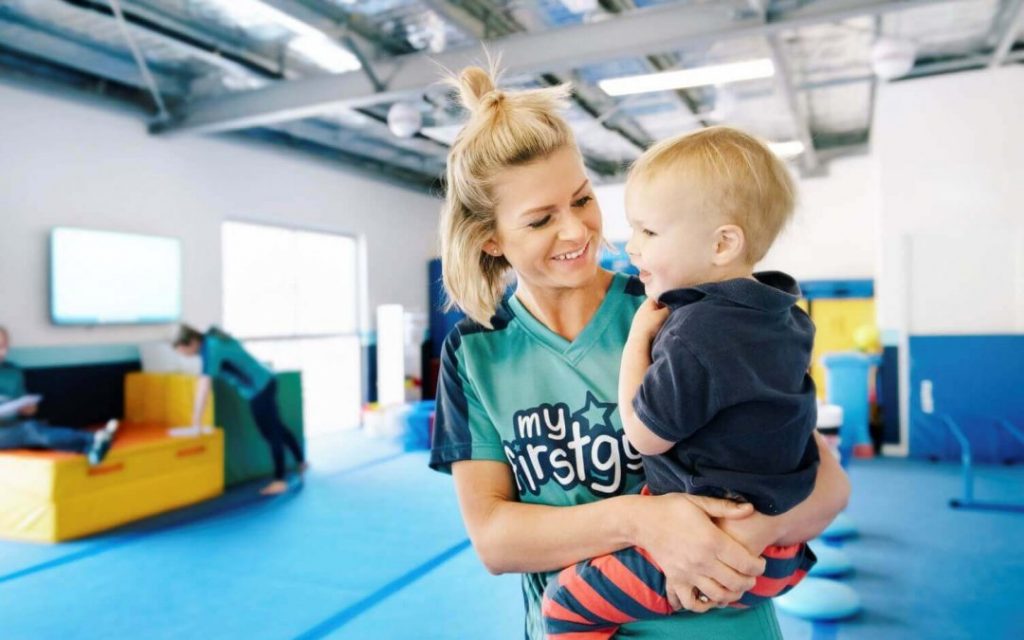 WORDS BY ERICA NEWTON, MYFIRSTGYM CO-FOUNDER
Do any other parents out there feel like the New Year actually begins on the first day of school? When you can take a breath? Where the routine is a little more fixed (and child-free) from 8am-3pm? Don't get me wrong: I love the long summer break, but I think I might love the first day back just as much! This morning all of our three children finally walked through those school gates and finally, I have had the chance to take that breath, reflect on and look at what's ahead for my fourth baby: MyFirstGym.
When we established this small family business in 2017, our eldest child was only seven years old. In those early days, we had just one club in Hawthorne, Queensland, and without a nanny or family to help, all three of our children were at the gym with us. If we were at the gym, they were at the gym. They actually helped run it: MyFirstGym became My First Job for them! The kids would do up to four classes per day after school, then we'd all clean the club before heading home for dinner.
Back then, having our three kids with us in the club 'at work' all the time was never a hassle. Rather, it was a constant reminder of why we had taken the leap into MyFirstGym in the first place: to inspire a love of movement in children. To have happier, healthier kids. And not just our kids. Dan and I had a much bigger vision: we wanted to do something about the obesity epidemic in Australia. At the time, 25% of all Australian children were overweight or obese. Of that figure 8% were obese. It wasn't good enough. We took that fire and purpose and worked our butts off, pouring all our energy, love and passion for movement into this business.
We didn't stop there, we wanted to make movement fun for kids.  With the rise in technology and tracking, we felt we had the perfect solution to get kids off their screens and engaged in their activities- it was then we introduced the MyMovementBuddy which provided kids real time trackable results toward their goals.   To further both parent and child engagement, we launched a huge range of new classes, ultimately making MyFirstGym a one- stop- fitness shop.  As parents ourselves, we could truly appreciate the benefits of having so many choices under one convenient roof. 
The Covid years came along and hit MyFirstGym hard: it was rough and stunted growth, there's no doubt. But parents still wanted the best for their kids, and we never stopped being passionate about inspiring movement in children. More and more people could see that a gym based on our model and aimed solely at children could and did work, not only as a business, but for inspiring health and fitness. Now, MyFirstGym is flying full speed ahead, with 15 clubs across Australia.
In 2022 alone, we welcomed five new MyFirstGym clubs across three states and grew our overall membership base by 51%. We were humbled and incredibly proud to have won multiple awards this year including:
🏅Best birthday party venue (peoples choice)
🏅Best National Toddler Activity (2-3 years)
🏅Best National Preschooler Activity (3-5 years)
🏅Best National School Aged Activity (5-15 years)
🏅Best National School Aged Activity (5-15 years) (peoples choice)
Looking ahead to 2023, MyFirstGym is set to be even bigger and brighter, with our most exciting year of growth ahead.
When I sit back (in my clean, quiet house: thank you school!) and look at the growth of MyFirstGym and where we're headed, I get a little overwhelmed. The days of Dan and I cleaning our only club after a long afternoon of classes are gone, but our mission hasn't changed and nor have our feelings. Just like then, we are beyond proud of where MyFirstGym is right now, in this moment. I am filled with open-hearted gratitude, not only to those first few parents who put their faith in us and set the ball rolling (see what I did there?), but to all the outstanding people who have joined us in the MyFirstGym team. We are so grateful for our amazing staff, many of whom have been with us since Day 1! Dan and I would like to extend our most heartfelt thanks to all our franchisees, club managers, sales staff, coaches and head office team who made 2022 such a success for MyFirstGym: you guys are the absolute best!!

Most of all, we're grateful to you, our members. As part of the MyFirstGym community, you have shown your commitment to inspiring movement in your children, in helping them become happier and healthier. Being a parent is so tough, and there are times when I think I might be screwing it all up. But when I'm doing my best to ensure they are healthy, that they feel proud of themselves and develop resilience, I feel like maybe I might be getting some of it right.
So here's to a fantastic year ahead! Thanks for coming along for the ride. Or the run. Or the parkour or the dance. It doesn't matter: as long as we're having fun and moving at the same time!