WORDS BY ERICA NEWTON, MYFIRSTGYM CO-FOUNDER
School holidays, eh? If it isn't Covid destroying our plans for a few glorious weeks in a tropical location with the kids, it's 'once in one hundred years' weather events, rate rises, skyrocketing airline tickets and anxiety riddled wait times for passports. It's almost enough to make you think working through the holidays isn't such an unpleasant idea after all. Except we have kids, little beings with boundless energy for whom we have a strange desire to please whilst also mouthing 'Because I said so, you little…" as they walk away. *Sighs dramatically*
So, if you've found yourself staring down the barrel of another school holiday NOT spent on a palm fringed Pacific Island oasis, MyFirstGym has some solutions.
1. Camping. Or rather, Glamping
Gone are the days where camping meant mouldy tents, baked beans cooked over a fire and the endless sensation of dirt under your fingernails. Campgrounds and caravan parks with poolside cocktail services, kids' clubs, restaurants, adults only retreats and day spas, and enough onsite entertainment to make you feel like you're on a landlocked cruise ship is the new kind of camping. And there's no passport required. The best news? Seriously chic glamping tents are also de rigueur, which means you can avoid the usual set-the-tent-up-with-your-partner fight. Here are a few of our favourites:
2. MyFirstGym Holiday Camps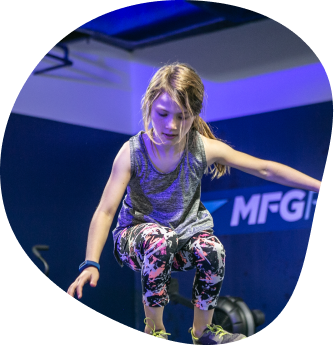 MyFirstGym is a leader in holiday camps; they're so good, we're even up for a national award! Think glamping, but at home, and with the kids occupied in safe, energy burning activities all day long. You can go to work or (now don't hyperventilate) enjoy a relaxing day or three at home alone. In a clean house which, oh wow you guys, STAYS CLEAN! The best part is that you don't even need to be a member to book into one of our awesome, fully supervised, energy burning holiday camps. This is also a great way to check out whether MFG is a good fit for your children. Spoiler: it will be.
3. Backyard Camping
This is perhaps one of the best ways to keep your kids occupied, have fun and save up an island vibe holiday for the next school break. Kids love camping in the backyard: it gives them the right mix of increased independence within the safety net of being steps from the house which in turn, gently builds their resilience. Once your tent (or trampoline- a great alternative) has been set up, they'll spend hours making the inside their own. The other great thing is that you can go as big or small on this as you like: a sleeping bag and torch for the minimalists, or glow sticks, torches, outdoor cinema, hot water bottles and midnight feasts for the glampers… It all adds up to great childhood memories.
Don't get me wrong: I love watching the kids parkour over the new lounge suite, and folding washing/ drinking coffee/ making dinner and wondering whether I'll get caught in the nerf war crossfire. But wouldn't it be great if the kids did it, I don't know, somewhere else? Yet again, MFG comes up with the goods with our Ninja Warrior Camp and Nerf Camps. Depending on the club closest to you, these will run as full or half day sessions, involve awesome skill and team building exercises and don't require you to be anywhere within shooting distance. In fact, go and have a quiet lie down- you deserve it!
5. Inside Camping
This is probably best reserved for after a big day at the MFG holiday camp: set up your loungeroom like the best Gold Class Cinema ever and run a movie marathon. Depending on your child's age and your streaming service, the options are huge, from Shrek, Frozen, Minions and Star Wars to Avengers or even Hunger Games. Get the popcorn out, serve some pizzas or order some in (it is a holiday after all) and relax. This is also a great option for sleepovers with those friends also waiting on their passports.
From Martial Arts to Gymnastics and Dance to Nerf Ninja Warrior, MyFirstGym has it all and the best part is- It all adds up to holiday fun for parents and kids!
To avoid disappointment (or worse, the kids ninja warrioring around the living room) contact your closest MFG club today to book your children in for school holiday fun!