This month MyFirstGym is aiming to inspire movement in a different kind of way. It's an issue close to our hearts and one we know many in our community are passionate about too. In a perfect world, every child would have the opportunity to access programs like ours, but not all do due to circumstances outside their control. Inspiring movement doesn't just happen in MyFirstGym clubs, which is why we are thrilled to announce our partnership with Barnardos Australia.  
Children need to feel safe and supported to thrive. This is something we are privileged to see everyday across our clubs. We have witnessed firsthand how the physical health and mental wellbeing of kids flourishes under the guiding hand of a champion; in this case, our coaches and the MyFirstGym community. Not all kids are supported to thrive however. For some of our most vulnerable children, simply having someone believe in them can change the course of their lives.
'Because every child needs a champion.'
This is the Barnardos Australia motto, and at MyFirstGym, we think it's pretty awesome. A champion isn't just someone who comes first or wins a medal. A champion is someone who defends and encourages another so they can feel safe and supported to thrive. This is exactly what Barnardos does for vulnerable children, and its why MyFirstGym has partnered with this amazing charity. The children they work with come from heartbreaking circumstances of abuse, neglect and homelessness, and Barnardos' role in being that champion for them is vital.
This month, we're aiming to raise in excess of $30,000 to purchase a commuter van to transport some of those children to and from a Barnardos' after school facility. We spoke to one of the Program Managers about what a bus could mean for Barnardos' children, and they were adamant: 'It would be a game changer.' The Barnardos Learning Centreoffers academic support and cultural education. The use of a dedicated bus will mean access to more children who would otherwise not have the transport to attend the Learning Centre. Even better, it will also provide the opportunity for educational visits, cultural excursions, and other activity-based venues, like MyFirstGym!
Not every child has access to programs like ours where the focus is on physical activity, where they are supported to thrive in a community of encouragement and fun. But inspiring movement isn't just about those kids fortunate enough to walk through our doors. Every child needs a champion, and helping a charity like Barnardos Australia support those who need one most is our game changer.
This month we have run a number of activities and drives at each of our local clubs aimed at getting to that $30k target. If you would like to support Barnardos, please visit our donation page here
---
Thanks to our Friends at PrezentBox who kindly donated $2,000 worth of PrezentBox dollars for 10 families to spend on physical activities such as MyFirstGym!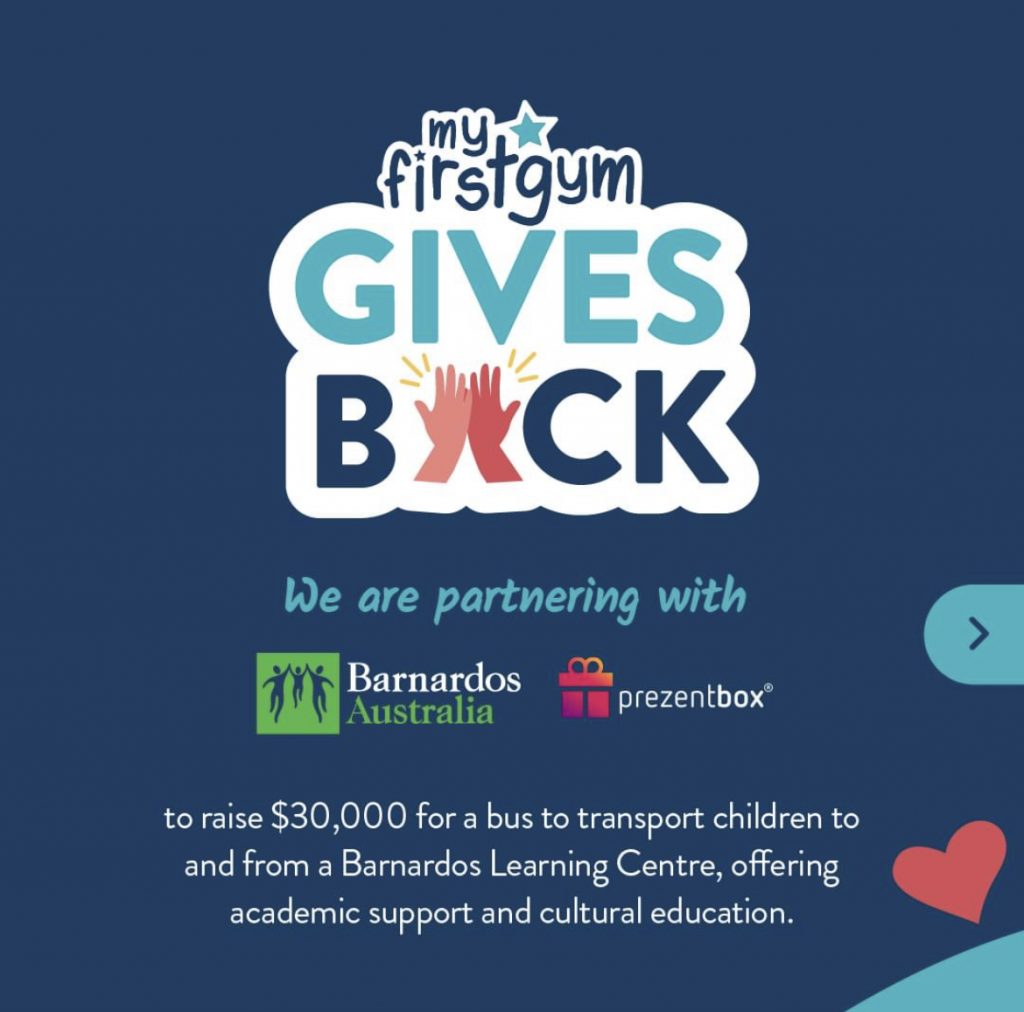 Don't forget School Holidays are just around the corner. Check out our upcoming holiday camps here.