WORDS BY ERICA NEWTON, MYFIRSTGYM CO-FOUNDER
Ask any parent about what Easter was like in their house as a child, and the memories fly thick and fast. Baskets made of newspaper and placed in the lounge room on dreams of sugary, chocolatey eggs. Four day weekends camping with friends. Long church services are followed by even longer lunches of special dishes seen only at Easter. The nostalgia (or grimacing) flows and as parents, the pressure to build life long memories and traditions for our children over Easter is both over- and underwhelming:
"Camping sucks at Easter: it always rains, the campgrounds are booked out and everything else is ridiculously expensive!"
"We're not religious, so…"
"I can get a hot cross bun anytime I like- why wait for Easter?"
"That amount of sugar in one day is so unhealthy."
It makes you wonder why we should bother with Easter traditions at all!
BUT TRADITIONS ARE IMPORTANT.
Through all our struggles, fears and desires, traditions serve to cultivate a sense of belonging and stability within our lives. They can become a positive, guiding force in our homes and throughout our society. And as we head into the third year of the pandemic, continue to clean up after devastating floods and watch horrifying news from across the globe, traditions can help anchor us and our children to a sense of safety, care and constancy. By continuing traditions or establishing new ones, we help provide our children with a healthy understanding of identity from a young age and strengthen family bonds. Easter for that reason is used by many, religious or not, to solidify the family unit, whatever that might look like.
The MyFirstGym CEO, Steve Ryan, is a father of four young children. He likes to keep things pretty simple at Easter with an egg hunt, (you read correctly: even the MFG fitness experts love chocolate!) and then lunch with the family. But there is one tradition he sticks to with religious fervour: "We go to the football every Easter Monday to watch the Tigers play the Eels. They play on Easter Monday every year."
Growing up in Seattle, I clearly remember my beautiful mom making an egg casserole every Easter (she was a big fan of make-ahead recipes). I've tried to replicate the recipe, but it doesn't seem to be a fan favourite amongst family and friends here in Australia. And whilst I usually don't keep a great deal of chocolate or 'candy' in the house, Easter is a special time for my three young kids; it's the only time of the year I'll let them eat chocolate for breakfast! That's a fun family tradition in itself. This year though, I'm going to try and combine the two by making something with them that I know they'll love: coloured pickled eggs. Using natural colours, the technique (see below for the recipe) is simple enough to have the kids help. We'll then use them as part of a picnic down at our local beach.
For our MyFirstGym family, however, where we're all about instilling the habits of movement through encouragement, belonging and support on a day to day basis, this Easter we're starting our own tradition. This year all of our MyFirstGym clubs will be hosting 'The Great MyFirstGym Easter Egg Hunt'.
This is a fun event for members as well as non-members in the local community. It's a great chance to get families together and encourage kids to move in a fun and more festive way- through an egg hunt! Who said Egg Hunts couldn't encourage exercise?!
For those who are new to the area, a friend of a member or perhaps wanting to explore MyFirstGym, chat to our friendly team about securing a sport directly.
Members and non-members, get in touch via the form below for more info on your local MFG Egg Hunt,
It doesn't really matter what your Easter traditions are, just as long as you're together as a family having fun.
NATURALLY DYED PICKLED EASTER EGGS.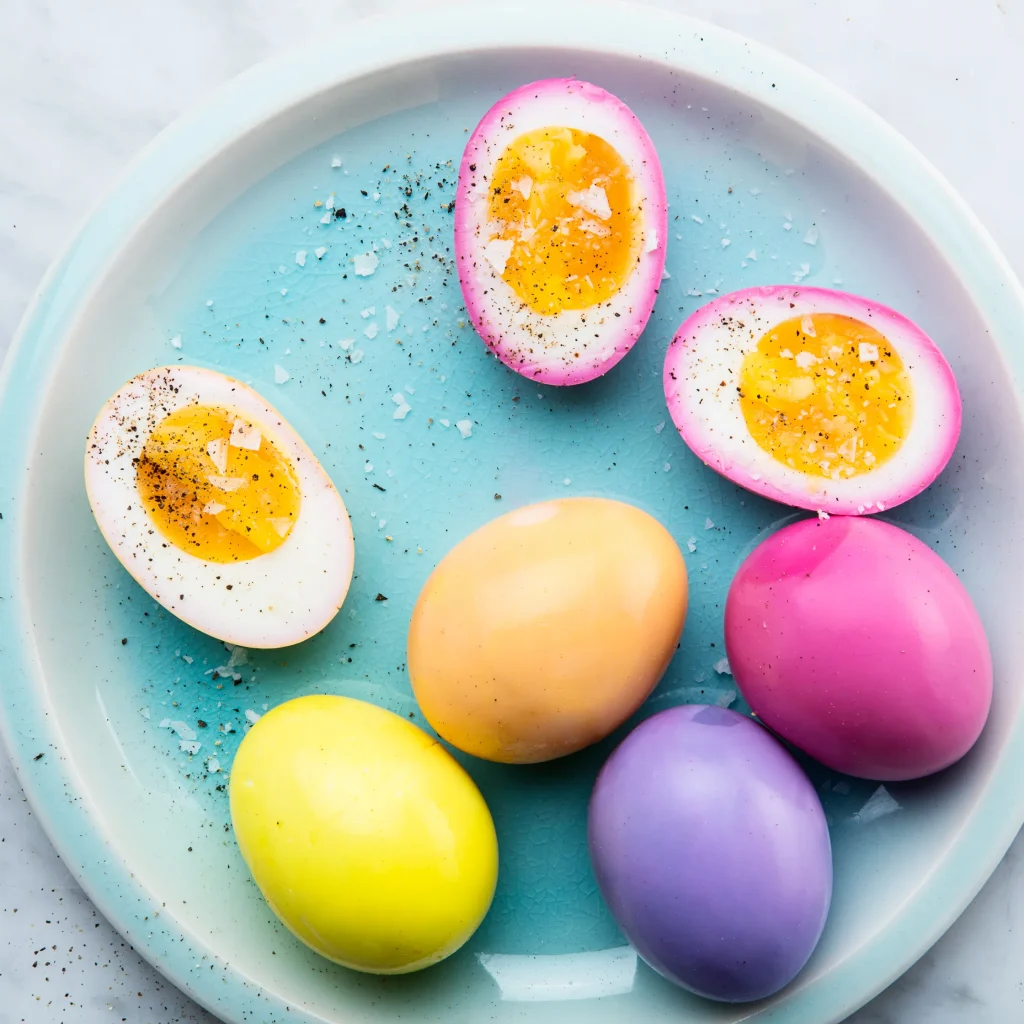 Thanks to Epicurious for this delicious, fun Easter dish.
Ingredients:
6 hard-boiled eggs, peeled
1 cup white vinegar
2 teaspoons salt
2 teaspoons sugar
For pink pickled eggs:
1/2 small beetroot, peeled, quartered
1 shallot, sliced
1 bay leaf
For yellow pickled eggs:
1 cm piece ginger, thinly sliced
2 teaspoons black peppercorns
1/4 teaspoon turmeric powder
For purple pickled eggs:
1 cup chopped purple cabbage
1 teaspoon caraway seeds
2 teaspoons baking soda, divided
For orange pickled eggs:
1 medium carrot, peeled, sliced
2 garlic cloves
1 sliver peeled beetroot
Small pinch of saffron
Step 1
Place eggs in a medium glass heatproof jar. Cook vinegar, salt, sugar, and 1 cup water in a small pot over high heat, stirring, until salt and sugar dissolve.
To make pink pickled eggs:
Step 2
Add beetroot, shallot, and bay leaf and bring to a boil. Remove from heat and let cool slightly. Pour over eggs, stir, and chill at least 3 hours or up to overnight for a darker shade of pink.
To make yellow pickled eggs:
Step 3
Add ginger, peppercorns, and turmeric and bring to a boil. Remove from heat and let cool slightly. Pour over eggs, stir, and chill at least 3 hours or up to overnight for a darker shade of yellow.
To make purple pickled eggs:
Step 4
Add cabbage and caraway seeds and bring to a boil. Remove from heat and let cool slightly. Pour over eggs. Add 1 tsp. baking soda and stir until foaming subsides, then stir in remaining 1 tsp. baking soda. Chill at least 3 hours or up to overnight for a darker shade of purple.
To make orange pickled eggs:
Step 5
Add carrot, garlic, beetroot, and saffron and bring to a boil. Remove from heat and let cool slightly. Pour over eggs, stir, and chill at least 3 hours or up to overnight for a darker shade of orange.
Make Ahead
Step 6
Pickled eggs can be made 5 days ahead. Remove from pickling brine once desired colour has been reached, transfer to an airtight container, and chill.