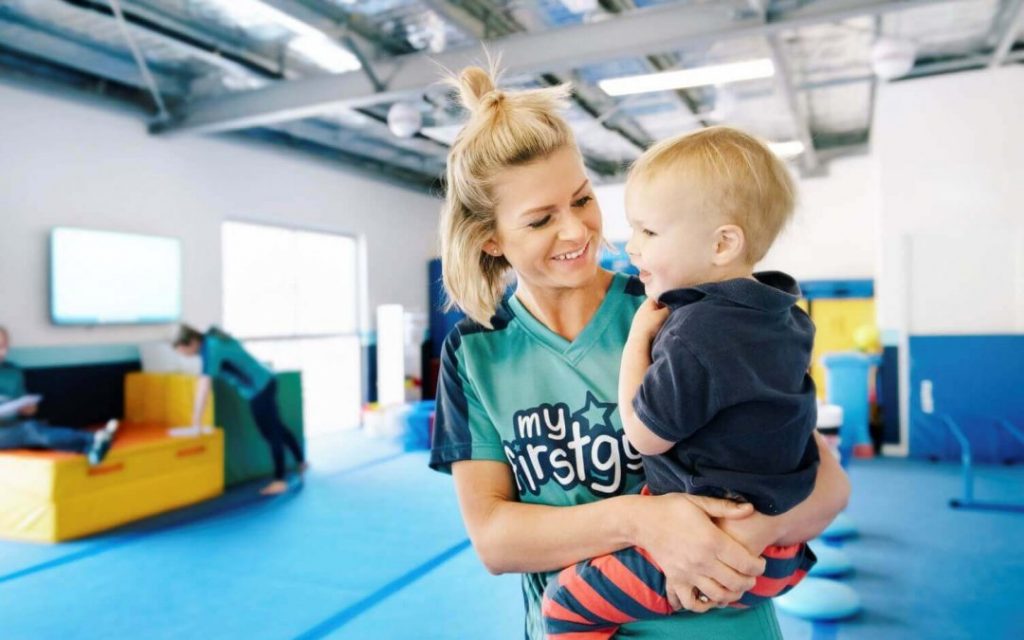 WORDS BY ERICA NEWTON, MYFIRSTGYM CO-FOUNDER
Just before I became a mother, there were certain things I knew I absolutely WOULD NOT do once my cherished mini-me entered the world. I'd watched other parents with their offspring and had silently noted what I deemed to be wonderful examples of mothering. Or not. Here are a few examples of my pre-child rules:
I will always use a tissue to wipe my child's nose, NEVER their t-shirt, my sleeve or *urrgh* hand.
I will never frisbee a screen to my child so that I can enjoy a quiet coffee/meal in a café/restaurant.
I will not eat the melted part of my child's ice cream cone so it doesn't drip, and then give it back to them. Because: gross.
I will always ensure my child is rested, well-fed and aware of expectations before I enter a supermarket with them. This way, they will NEVER throw an apocalyptic tantrum over a $2 Lego figure.
And the best one: Children won't change how I live my life; they can fit in with me.
Bah ha ha ha ha!!!! You guys, I am crying with laughter *wipes away tears with a random sock *
I often sit back and reflect on what being a mum means, and chuckle over how unrealistic my expectations were. I was heavily caught up in ensuring my first baby lacked for nothing. We were booked in for all sorts of classes from six months of age; music, art and even Spanish. It was a frenzied effort to ensure she had the best start in life, yet all I did was exhaust myself, my bank account and, ironically, over-stimulate my baby.
I was doing it all wrong and had missed some of the simplest ways to set my child up for happiness and success. This became very clear when baby two and three came along. Ain't nobody got time to get the middle one to music class, breastfeed the youngest, make the eldest's GF, DF and SF playdate snack and train to be a human encyclopaedia. Example: "Why are 'elbows' elbows and not knees?… Why?… Why?" Yes, why indeed!
Turns out, all I needed to do was go for a walk. (My pre-baby self is dying right now). There's lots of research to indicate a lasting bond with your child can be achieved in the early years through movement and physical activity, both modelled and together. One study of 4- to 7-year-olds found that children with two active parents were nearly six times more likely to be active themselves. There is even greater evidence that families who are active together also tend to stay active, together.
Achieving this doesn't have to mean signing up for family triathlons! It can be as easy as walking the dog together, regular swims at the beach or focussing on skills like kicking the footy. Introducing these simple, regular and active behaviours, creates a lasting bond which is, of course, what all mothers (and babies) crave.
As a modern mother though, cutting through the commodification of parenting can be a little difficult. Afterall, everyone's kid on Instagram has a Sophie Giraffe, I should get one too. It took me a long time to realise the most valuable thing I can give my children is absolutely free; love, time and support. Not the latest toy for future geniuses or the best sippy cup for vowel development.
Most interestingly and especially during the toddler years, children need stimulating, not stressful environments. Part of the reason my husband and I came up with the idea of MyFirstGym was to provide a space where parents could foster a love of movement with their children under expert guidance in a supportive and flexible community. In particular, MFG's junior classes focus on the parent-child bond and teaches parents how to best help support their children through learning and growth. And it's fun!
MyFirstGym makes life easier, supports that parent-child bond and gives kids a great healthy start. To make things even simpler, our promotion for Mothers' Month is a big one: Don't Pay in May. Sign up in the month of May to any MyFirstGym and you get the rest of the month for free!
Go on, buy yourself an ice cream, and don't share it with anyone!!
A SPECIAL THANKS
A special thanks to Malo Kids, who like MyFirstGym are aligned in their mission to encourage kids and teens to be active and play more sports. The Marlo Kids matching sets are featured in the gallery and worn by Co-founder Erica Newton and her daughters.
Shop Marlo Kids here